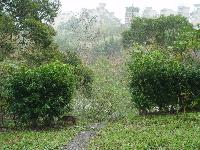 今天題目很簡單,是問你想要發明什麼東西.隨便亂掰就5分了^^~
Essay Assignment: New Product
Essay Score: 5
If I have enough money and time, I will invent a new super engine which have much more power than the old one. It also use the sun light for its energy source.
The airplanes can use this new engine and fly faster than before. People will only spend one or two hours to across the Percific Ocean. The cargos which send to other country will also faster than before. It can make the business more effective.
This brand new engine can also use on the automobiles. Because it uses the sun light for it energy source, it will reduce the green house effect and make our environment more clear. The new engine is more stable than the old one which use the fossil fuel and expend the engine's life.
The spaceship can also use this engine to explore the universe. To explore the space, it always have to wait for a long time and wait for the spaceship flying to the point. With this new engine, spaceship will fly faster than before and send the data back to the earth. It will make the space projects complete faster.
If this engine could invent someday, this new engine will completely change our life and make many things more effective. I hope that will be soon to invent.